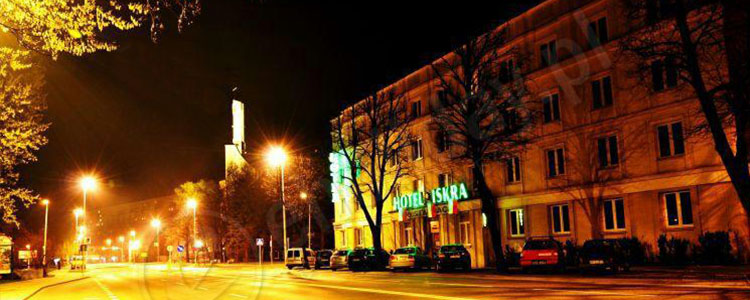 The ISKRA Hotel offers high standard rooms at a reasonable price.
We provide high quality services, maintaining the atmosphere of home warmth. We are proud to offer quality services at a good price-quality ratio. The ISKRA Hotel is accessible to disabled people.
Although our Hotel holds two stars, its standard corresponds to that of a three-star hotel. Convenient location, comfortable interiors, attractive prices, spacious, CCTV-monitored car park, Wi-Fi. A perfect place to organize leisure, conferences or training courses. We want Our Guests to feel in our Hotel at ease and comfortable. We offer comfortable bedrooms, each with its own en suite bathroom, TV set and free Internet access.
The ISKRA Hotel has its own CCTV-monitored car park for cars and coaches. We are flexible and can adjust to meet your requirements and cater for your individual needs. It is our proud boast that we are reliable and professional. We value Our Guests' satisfaction highly – treating it as a priority.